People working in startups experience some degree of chaos in their daily work. Unforeseen issues arise, for example, when a satellite launch is postponed due to a solar eclipse or other natural phenomena. However, things can be accomplished even when they might seem impossible. 
Akifumi Sumiya, VP of Solutions Dept., believes that to be successful is to embrace the chaos. We interviewed him to understand why he decided to join and how he hopes to unlock a new era of human achievement in space at Synspective.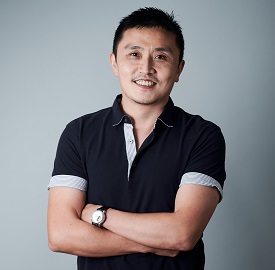 Akifumi Sumiya, VP, Solutions Dept., Flood Damage Assessment Service Manager
After working for a major electronics company as an Overseas Sales Representative for industrial infrastructure equipment, managing large-scale infrastructure projects as an expat in the U.S. and Russia, and corporate overseas business planning, he engaged in risk consulting at one of the Big 4 consulting firms. After that, he participated in the launch phase of a new service at a medical mega-venture and played a role in generating 5x sales growth as a Group Leader and Executive Officer. In January 2021, he joined Synspective as a Business Development Manager. He graduated from Keio University and Aoyama Gakuin University, Graduate School of International Management (MBA).
What is your role at Synspective?
I'm responsible for leading operations to build out scalable processes of satellite solutions and am also involved in overall product management of the Flood Damage Assessment service as a product manager. 
Why did you decide to join Synspective?
I felt that I had done enough with launching new services at my previous job, and I wanted to try something new. In particular, I knew I wanted to work for a start-up in the Seeds or Series-A phase next. At the time, a colleague from my previous job introduced me to Synspective's CEO, Mr. Arai, and that's how I came to know about Synspective.
When I heard about Synspective's business plan, I thought that my experience in social infrastructure and launching new services might be useful. I also felt the future potential of the space business and solutions using satellite data, and I was attracted by the opportunity to participate in the space market, which is expected to grow significantly. I decided to join Synspective with the idea of creating a future in which services and technologies based on space will be used in our daily lives.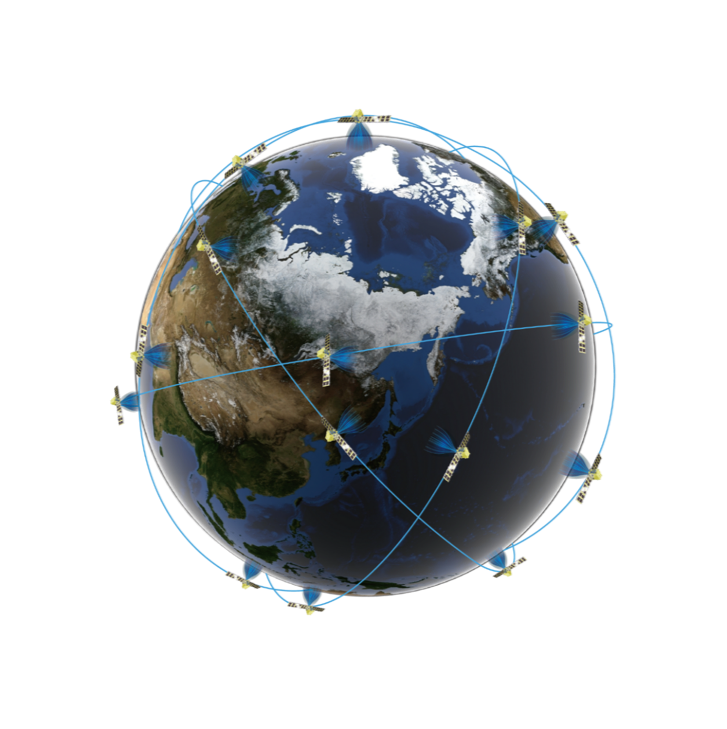 It seems that pursuing "something new" is a driving force for you. Would you say that's accurate?
I like to do new things. I love being in a chaotic environment with a lot of daily changes. Rather than having the day look the same every day , I would rather have each day be 180 degrees different in approach from yesterday to today, as long as I can take my work to a higher level. It is because of changes and troubles that there is a next step, and it is more exciting to connect with kaizen (continuous improvement) and PDCA activities to resolve issues. People can only learn by experience, Synspective is also a series of chaos, but I am spending exciting days every day.
How do you feel about working at Synspective?
Synspective has received a strong reputation for its corporate values and is one of the most promising companies in the space community worldwide. Working here, I can connect with the world's top players in the industry, as well as with leading companies who are interested in the space business, and gain new ideas and perspectives for further development of the space business.
In addition, Synspective's technology is one of the best in the world and I feel that the engineers I work and communicate with are very talented. I was not originally familiar with the space business, so I had a hard time catching when I first joined Synspective. In a company where 80% of the employees are engineers, the base of the conversation was too technical and highly specialized. I can't tell you how many times I thought to myself, "Please talk in a way that a non-technical person like me can understand!" Now that I have acquired a certain level of technical understanding and knowledge (I think), I am happy to have joined. That said, there are still many things that need to be done to make the space industry more accessible and sustainable, and to increase company value.
What do you feel are the challenges in developing Synspective's business?
We already launched our first demonstration satellite, StriX-alpha, at the end of 2020, and we plan to operate a constellation of 30 of our own StriX satellites by 2030. With an eye on developing solution services using the data acquired from our satellites, we need to think about how to connect the pieces and fit them into the market. Synspecive has a high-caliber level of technology for small SAR satellites but we need to be able to use the data we obtain to create solutions that satisfy client needs and demands; in other words, how many ways we can utilize the data is key. As the number of satellites increases, so will the imaging coverage and frequency, so we would like to enhance the value of our solution services in parallel.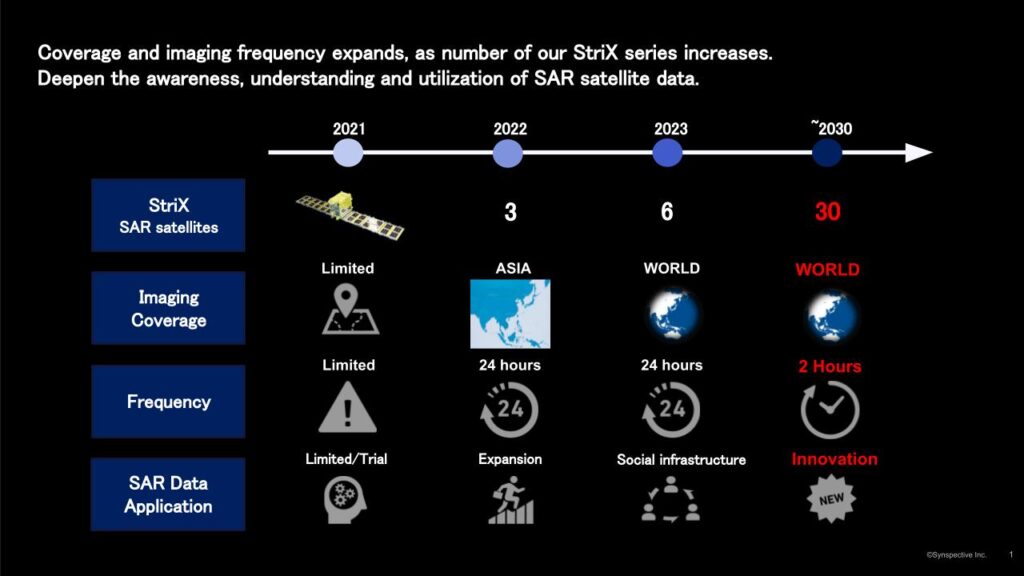 Still, I think it is more important to expose more people to the space industry.  It is predicted that the industry will expand to 300 trillion yen over the next 20 years, but I think there are still few opportunities for people to connect with space in their daily lives. Increasing public awareness will lead to market expansion of the service. Additionally, I believe that if more people become interested in the usefulness and uniqueness of satellite-based monitoring, and increase the number of opportunities to actually use it, breakthroughs will occur in many areas. As for Japan, in order to not be left behind, we need to increase interest in satellites and the space business among the Japanese people. For this purpose, I hope that Japanese space ventures will work together to boost the Japanese space market.
How do we get more people interested?
Essentially, what I want to do is create a different world by increasing the creation and various applications of satellites, including SAR satellites. For example, we could try to use a paper-owner approach (virtual horse owner) for SAR satellites, use SNS for announcing in advance that "Synspective's StriX will take an image here today" and upload the image, or post a daily StriX operation to report on the daily struggles of the operational staff. I would like to create a mechanism to increase the opportunities for more people to come into contact with the space business, and to generate new ideas and perspectives on how it can be used for various applications.
When do you feel rewarded?
I think it's when a client sees what can be achieved with a satellite data solution. By incorporating new option solutions into the client's operations, we are able to help the client optimize their existing monitoring portfolio, which also leads to use cases. However, we are still at the stage where we are gradually discovering successful models. The content of the technology is very specific and complicated, so it is important to be able to explain it in a way that clients can easily understand and can match their business. I feel most rewarded when I can spark people's interest in the space business. 
Finally, I'll ask a question that leans more towards recruitment. What kind of people do you want to work with?
(1) People who can act and speak up with a sense of ownership in order to improve the value provided to clients and corporate value. People who can work with autonomy and awareness of what they would do if they were the president of this company.
(2) People who can proceed with their work while being aware of how it is ultimately connected to the value provided to the client.
(3) People who enjoy change and chaos, even if the environment is different today than it was yesterday.
Does this sound like you? This is your chance to jump into the space industry as a player with Synspective. You will be able to network with stakeholders you would never meet in other businesses and gain rare experience in the commercial space age.
Click here to see our open positions. 
Some of the reports he has done.
January 2022 Analysis of the underwater volcanic eruption in the Tonga Islands, South Pacific
December 2021 analysis of the damage caused by typhoon Rai in the Philippines