In February 2023, Synspective marked its fifth anniversary. On this milestone, our founder and CEO, Dr. Motoyuki Arai, would like to take this opportunity to look back on our history and express our gratitude to all of you.
Looking Back on the Occasion of Our Fifth Anniversary
Synthetic data for perspective on sustainable development. Our company started with this one idea, which became the inspiration for our company name. We aim to comprehensively leverage data in order to make progress toward a resilient and sustainable future.
Before founding the company, I was growing and supporting several social enterprises, mostly in emerging markets. Through this experience, I realized the importance of two things: a strong understanding based on data of the various issues our world faces and the ability to address these challenges with reliable and reproducible results.
Meeting today's challenges requires a scientific approach with data and analysis to provide persistent monitoring and detection of environmental changes and economic activities. With the ability to capture wide-area, complex data imagery, I believe a Synthetic Aperture Radar (SAR) satellite constellation can be a unique and valuable asset. Additionally, we are fortunate to be living now in an era of rapid technological advancements that can analyze vast amounts of data, including machine learning and data science, which have spread worldwide and carry incredible implications for businesses and people. 
We at Synspective decided to set out on a mission to realize a Learning World that expands human potential with new data and technology and provide data-based solutions to address the many intractable issues the world faces today. Synspective started five years ago in a small shared office in Tokyo. We opened our very own office in the Kiyosumi-Shirakawa downtown district in east Tokyo and now have more than 185 people with us from 28 countries. I want to thank and congratulate all of our dedicated and extraordinary team members. I also want to highlight some of the milestones we have achieved over the last five years.

Japan's First Successful Imagery with a Small SAR Satellite
Two more Satellites are Deployed and Put into Target Orbit to Expand Constellation
On December 15, 2020, Synspective launched its first demonstration satellite, StriX-α, with Rocket Lab's Electron rocket from their launch site in New Zealand's Mahia Peninsula. In February 2021, we acquired imagery from Japan's first small SAR satellite (100 kg class).
We launched two satellites in 2022, including StriX-β in March, and StriX-1 in September, our third commercial SAR satellite. The satellites are currently in orbit, and our next-generation satellites are in development to improve imagery accuracy and operations. 
Development of Analytic Services with SAR Satellite Data
Ahead of our first satellite launch, Synspective deployed its first satellite data solution service, Land Displacement Monitoring (LDM), in September 2020. We subsequently released the Flood Damage Assessment (FDA) solution in December to assess flood damages for disaster response. 
In 2021, Synspective developed a subsidence extraction feature to identify potential sinkhole areas and a slope instability detection feature to detect disaster changes with the LDM service the following year. We continue to develop new solution services in response to customer requests and global demand to further advance our Earth-imaging offerings.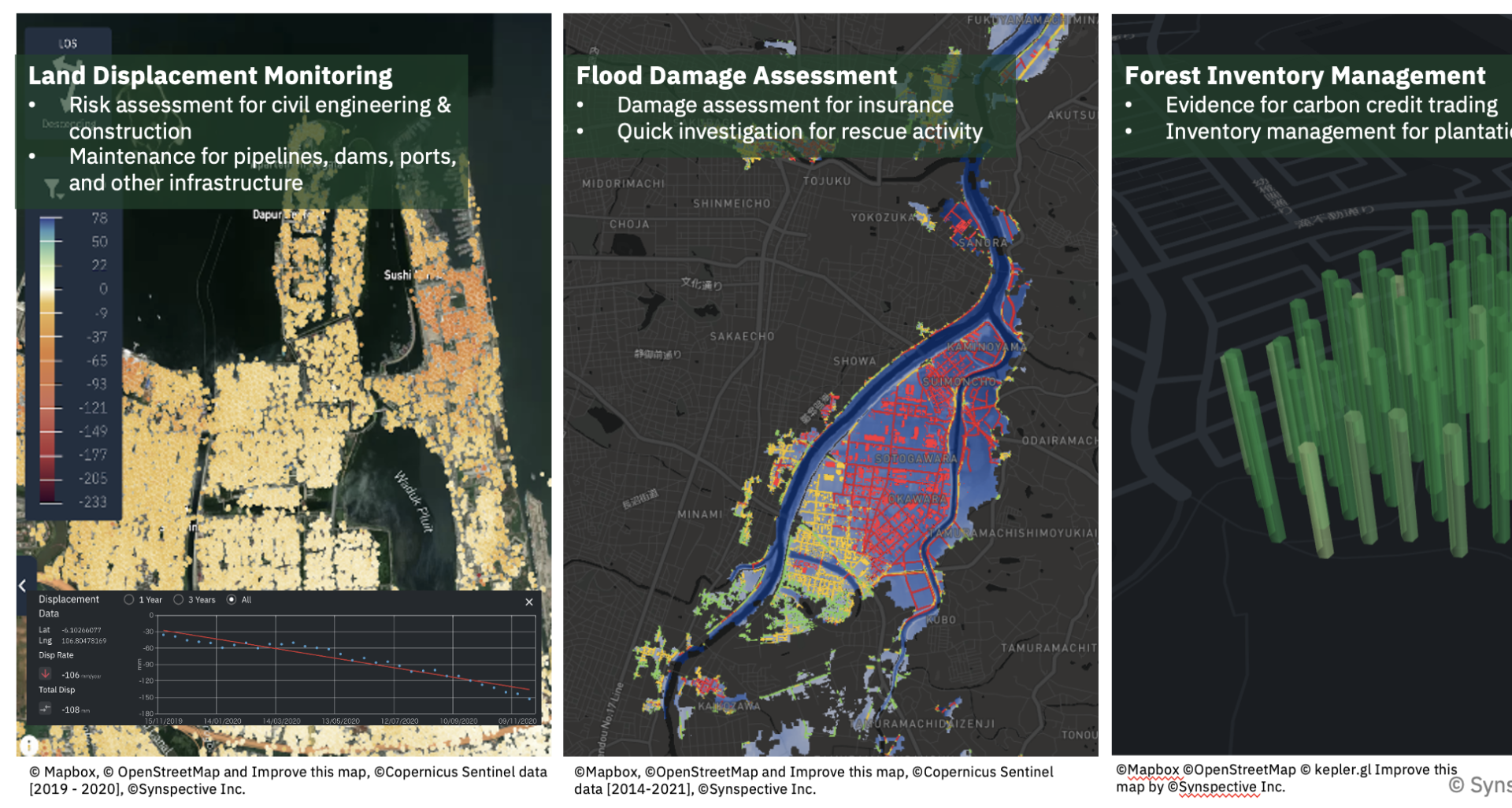 Finding Success with Business and Government
We have worked with the Japan Aerospace Exploration Agency (JAXA) and local governments on countermeasures against water-related disasters such as heavy rains, and have also conducted land displacement surveying with the World Bank and Nepal's National Disaster Mitigation Agency. We detected new disaster risk areas in earthquake-prone Guatemala in collaboration with the Japan International Cooperation Agency (JICA), and entered into a contract with Japan's Cabinet Office to demonstrate use of a small SAR satellite constellation. As a result of these and many other initiatives, we have had the opportunity to build new knowledge and partnerships, and forge new paths to innovation.
These Proof of Concepts (POCs) and commercial offerings have brought in substantial revenue for our five-year startup and serve as the foundation for future growth. We will continue to expand our influence and reach by pursuing both social responsibility and profitability.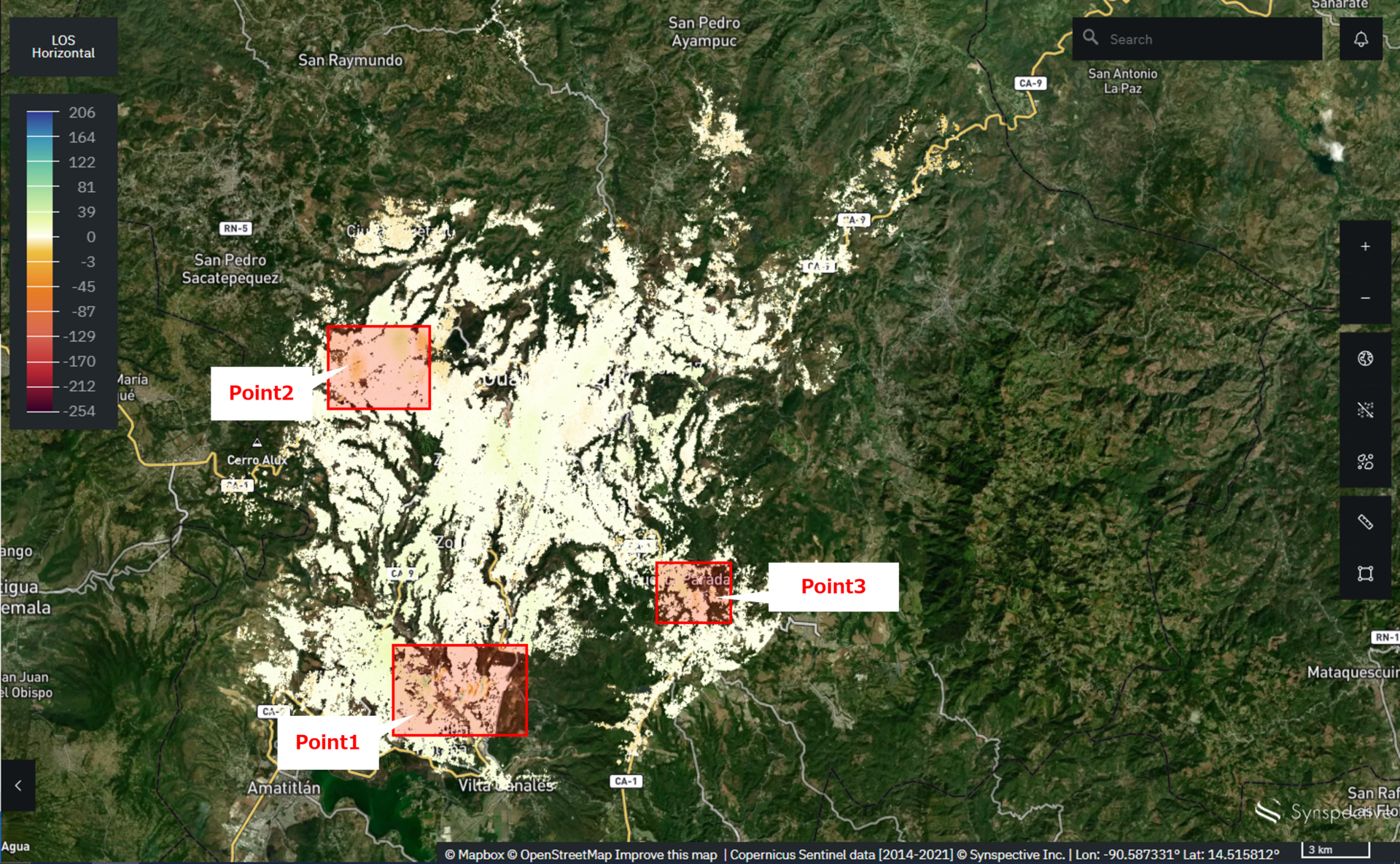 Awards
We are grateful to have received worldwide recognition and numerous awards over the last five years. In 2019, we received the Euroconsult Award for Strategic Transaction for EO Business. We were selected by LinkedIn as one of Japan's top startups for three consecutive years (2020-2022) and among the top 100 global geospatial companies by Geoawesomeness in 2022 and 2023.  
As Synspective's CEO, I was named an honoree among Business Insider's 100 people transforming business in Asia list in 2020. This year, I was appointed the Entrepreneurship Education Ambassador by the Ministry of Education, Culture, Sports, Science and Technology (MEXT). 
The awards are a testament to everyone's committed, collaborative efforts at Synspective and the unfaltering support we have received from numerous people and affiliates. 
Looking Toward the Future 
When we first started, I knew that I wanted Synspective to be a profitable company with a sense of purpose and enthusiasm for social impact. I only had the faintest idea of what a global data analytics company would look like over five years.  
It is only with the help of numerous talented colleagues and partners that we have been able to propel this company forward beyond what I imagined. I am not capable of building satellites, gathering data and creating solutions, selling to domestic and global customers, or overseeing operations that support the entire end-to-end process. I have learned that this is a team effort and we can accomplish more together. 
These past five years and everything I have learned along the way has changed me. Creating a sustainable future was initially my life's work, knowing perfectly well that I might not be able to see it during my lifetime. Yet the fact that we were able to transform human activities in unprecedented ways in just five years is encouraging. With more people everywhere committed to creating a Learning World, I believe that we can achieve a sustainable future much sooner than 10 or 20 years.
Synspective will have greater social impact over the next five years. A constellation of 30 high-resolution satellites that can capture the world in near real-time, complemented by numerous solutions and partner networks, will transform the world into a more efficient, resilient, and peaceful one. 
With the technology to make that possible at Synspective, we have an obligation to keep pressing forward. I look forward to your continued guidance and support.
Founder and CEO, Motoyuki Arai
Synspective Inc.
---
[New Release Information]
Also we are pleased to announce that Synspective has newly opened the "StriX SAR Data Gallery" page on our official website.
Now you can see and download SAR images of various places in Japan and overseas captured by our SAR satellite "StriX". Please take a look from here.