Japan Aerospace Exploration Agency (JAXA)
SAGA PREFECTURAL GOVERNMENT
Synspective Inc.
SHIMAUCHI ENGINEER INC.
The Saga Prefecture (Governor: Yoshinori Yamaguchi) and Japan Aerospace Exploration Agency (Headquarters Office: Tokyo; President: Hiroshi Yamakawa, hereinafter referred to as "JAXA") signed a cooperation agreement on March 22, 2021, to solve regional issues with space technologies. They have been jointly promoting various initiatives under the "Space x Regional Revitalization" to create model cases that contribute to solving issues in fields such as disaster management, agriculture, and civil engineering, and developing space businesses as well as expanding to other local governments.
In this demonstration, JAXA and Saga Prefecture worked with Synspective Inc. (Head Office: Tokyo, CEO: Dr. Motoyuki Arai, hereinafter referred to as "Synspective"') and SHIMAUCHI ENGINEER INC. (Headquarters: Saga Prefecture, President/CEO: Yasunobu Tokutomi, hereinafter referred to as "SHIMAUCHI ENGINEER") on enhancing disaster management including responses to heavy rains that frequently occur nationwide. We also came together to improve the accuracy of Synspective's flood damage monitoring service and conducted operational verification for use during normal times and disaster periods.
As a result, we confirmed that the analysis algorithm has improved, especially in the agricultural area, where it was difficult to detect the flood status with high accuracy. Furthermore, we found a potential use case with accumulating damage status data not only at the time of disaster but also at the time of restoration / reconstruction.
Based on our findings, we will continue to work on the trial operation during this year's rainy season. If the potential use case is further recognized for its effectiveness, the satellite data will progress toward solving regional issues. Finally, Saga Prefecture and JAXA will continue to apply these achievements as a model case for horizontal expansion and will work on solving regional issues and cooperating with other local governments.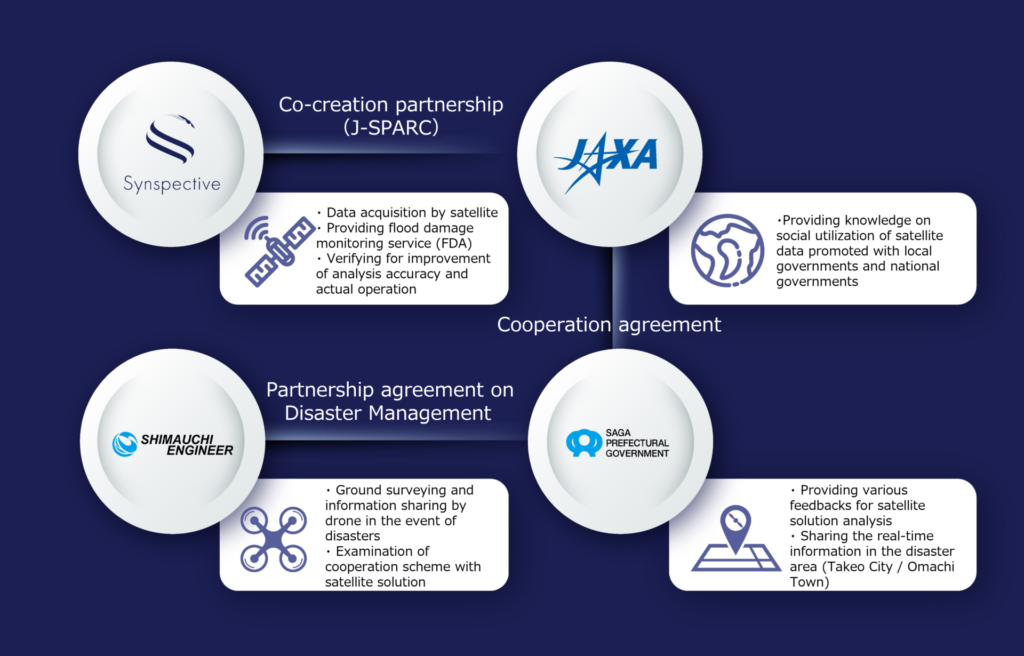 Figure 1. Correlation diagram in this project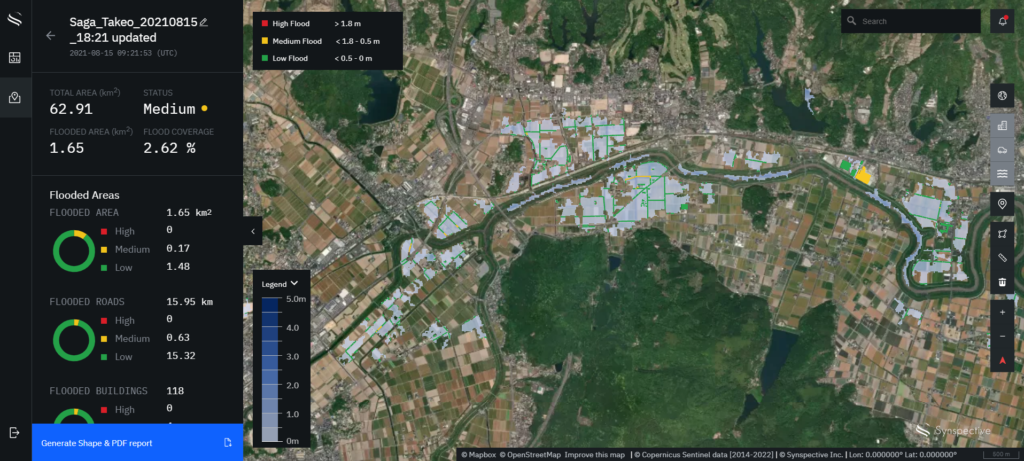 Figure 2: Data analysis/comparison and accuracy verification were carried out using multiple satellite data and hydrological data of the Rokkaku River targeting the past flood damage (heavy rains in August 2019 and 2021, Takeo City / Omachi Town area). Initially, the agricultural area was identified as a flooded area; however, after improving the analysis algorithm, only the truly flooded area was detected (light blue colored area in the above figure). ©Synspective Inc.
■ Comments from project members
JAXA Business Development and Industrial Relations Department
<Yusuke Enjoji, Strategic Planning and Industrial Promotion Division>
Heavy rain disasters can occur anywhere. I think that this improvement in the accuracy of SAR satellite solutions has the potential to greatly advance disaster response of all local governments nationwide. At first glance, it may seem that region and space are far from one another, but the JAXA New Business Promotion Department will use space technology to solve regional issues and energize Japan.
Saga Prefectural Government, Policy Department Planning Team
<Seiji Akiyoshi, Section Chief of Policy Department Planning Team>
Saga Prefecture aims to "solve regional issues by utilizing space technology." We put a particularly high priority on disaster prevention and mitigation. In this project, we verified accuracy and operation improvements of the flood damage monitoring service developed by Synspective.  We were able to do this by utilizing the data of the two heavy rain disasters that we experienced in our area and listening to the opinions of our prefectural officials. We hope that this service will be used in many areas and will play a leading role in protecting human lives and property in the event of a flood, and we will continue to cooperate to enhance the service.
<Akifumi Sumiya, Vice President of Solutions Dept. and FDA/DDA Service Manager>
The SAR (Synthetic Aperture Radar) satellite is an active sensor that can grasp earth's surface day or night and in bad weather. Around 2026, Synspective will build a constellation of  30 StriX-series satellites to observe the entire world with a rapid 2 hour frequency rate. As part of this demonstration project, we received great feedback and support from many people including the members in the Saga Prefectural Government, enabling us to improve accuracy as well as identify issues for on-site operations.
Disasters occur unexpectedly; they may occur at night or can last for long periods of time, such as torrential rains.  We will continue to develop satellite solutions to advance disaster management by providing appropriate information rapidly and effectively to people in need.
<Kazuki Nakagawa, Deputy Manager, Technology Section 2, Engineering Department >
Combining the technology to analyze disaster situations over a wide area with SAR satellite imagery and drone data will help us quickly and effectively identify damaged areas in the event of a disaster and enable accurate ground surveying. We will continue to cooperate in service verification.
Attachment: About the Trial Demonstration
■ Project overview
Utilizing local data provided by Saga Prefecture in areas affected by heavy rain in August 2019 and August 2021, we comprehensively compared Synspective's satellite and drone data captured by SHIMAUCHI ENGINEER of water level changes to verify analysis accuracy and operability of Synspective's "Flood Damage Assessment*" (hereinafter referred to as FDA) service.
* Please click here for more information on Synspective's FDA service.
[Project theme]
Accuracy improvement
Verify the improvement of heavy rainfall analysis accuracy targeting major areas of Saga Prefecture using Sentinel-1 (C-band) satellite data
Operation demonstration
Examine efficiency/optimization in the event of a disaster

Implement the trial operation in the event of a disaster
[Project process]
▶︎Step 1 (July – October 2021)
Carried out analysis of two previous flood disasters that occurred in August 2019 and 2021 using Synspective's FDA

Shared FDA analysis results online and conducted demonstration use of service

Examinined and compared satellite data and hydrological data of the Rokkaku River for accuracy verification
▶︎ Step 2 (October 2021 – January 2022)
Utilizing Synspective's other solution service "Disaster Damage Assessment (DDA)*", analyzed the secondary damages such as landslide and house collaspses due to heavy rain
Compared the analysis results by DDA with the actual images by the drone provided by the SHIMAUCHI ENGINEER to verify the possibility of comprehensively grasping the extemd of damage
* Please click here for more information on Synspective's DDA service.
▶︎Step 3 (January – March 2022)
Conducted on-site inspections mainly in Takeo City and Omachi Town in Saga, and interviewed staff members in charge of disaster management for their advice on possible satellite data utilization.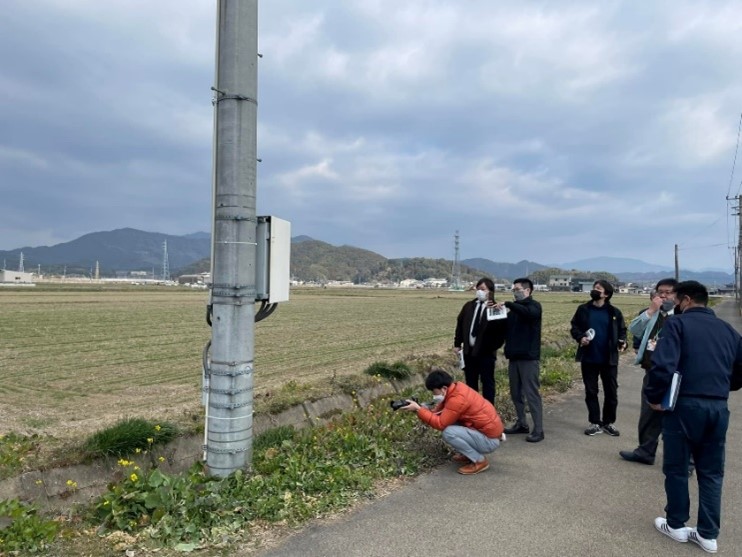 Fig 1: On-site inspection of Takeo City, Saga (January 2022)
■ Project Results
Please refer to the main body of this press release for the project results.
END