On the first day of employment, you are provided with a PC and cell phone and then left to manage the rest. On the second day, you are already expected to perform autonomously. You have a lot of questions but you don't even know who to ask. You can't find anything that looks like a manual in any of the G Drive's shared folders. This is common in start-ups you often hear about, isn't it? Not at Synspective! In this article, we introduce the Synspective onboarding program for new employees, which has received thumbs up from more than 95% of new hires.
For the first two years of Synspective's history, there was no onboarding process. All knowledge and information was stored in each employee's head, not in a Google folder. But employees didn't feel that it was a problem because they could ask other members about what they didn't know. However, by the end of 2019, new employees were joining the company every month and we doubled the number of employees in six months. Also, more members were coming to Japan from abroad. We felt the limitations of our individualized support system and left it to each team. We realized the need for a systematic onboarding process and began researching best practices at other companies. Based on our findings, we crafted an effective onboarding system that would not be burdensome for the new employees and the team while also taking into account our own company's organizational structure and culture.
There are two goals for Synspective's onboarding process: (1) new employees feel welcomed and (2) new hires are able to immediately rocket off and perform at 100-120%. We thought about what HR could do to achieve this and tried a number of things. HR spent days of trial-and-error, checking feedback from new employees to see what was and wasn't working. With the cooperation of our colleagues who take on new hires, we were able to create an onboarding process that received positive feedback from more than 95% of new hires. 
Here is Synspective's onboarding program: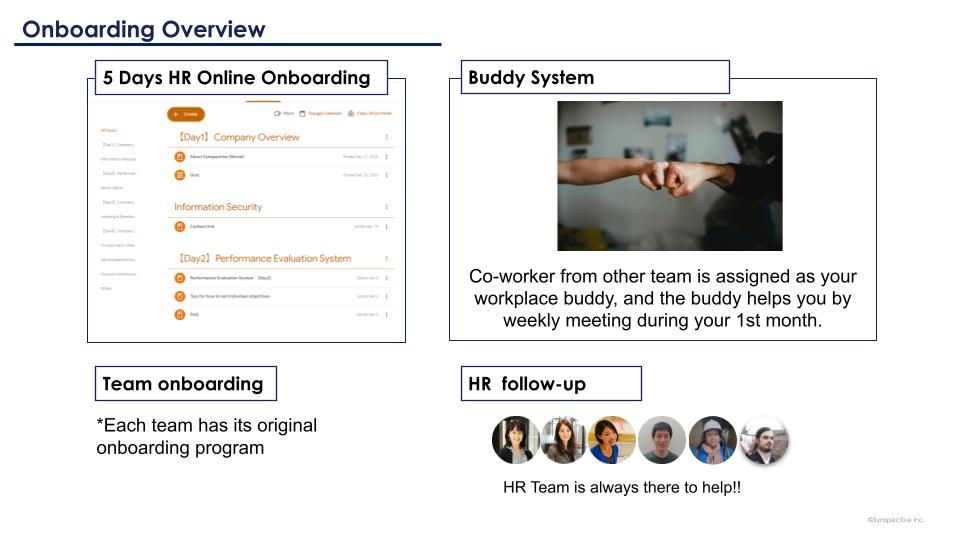 ■Five Days HR Online Onboarding 
We know that the first day of employment is one of excitement and nervousness so we welcome new employees with a big smile at our Tokyo headquarters. Since some members do not speak Japanese and some are not fluent in English, onboarding is conducted in both English and Japanese. To begin, the IT team takes the lead in setting up the PCs which takes about two hours. After confirming in advance whether anyone has any food restrictions, including allergies and religious dietary restrictions, we then host the Welcome Lunch for all new employees and HR members. In the afternoon, there is an employment practices briefing and an introductory meeting for new hires to meet their respective team members.
From day two to day five, new hires will have daily online onboarding meetings for 30-60 minutes where HR will explain the evaluation system, company culture and events, organizational chart, and company strategy. At the same time, if there is anything new hires are having trouble with or have difficulty understanding, we can address it at the onboarding meeting and resolve it immediately. All materials used for onboarding are stored in Google Classroom and are accessible at any time. Manuals, company regulations, and other information are compiled on the company portal site.
■Buddy System for New Hires
All new employees at Synspective are assigned a buddy outside their respective team. The purpose of the buddy system is to provide new employees with someone they can easily talk to and to stimulate communication within the company. Sometimes we connect members who do not usually have a chance to interact with each other on the job, and we also sometimes help foster connections with engineers in the same occupation but in different departments.
■HR Follow-up
After the first month, HR will conduct a 1-on-1 follow-up with the new employee. HR will assess the current situation and confirm if there are any issues, as well as collect feedback on onboarding for future improvement. Due to the fact that many of our employees work remotely, we try to provide an opportunity for an additional HR follow-up meeting after three months.
That's HR onboarding for Synspective. For those of you who are considering joining Synspective, don't worry, we've got you covered! We'll do everything we can to help you rocket your way to success here!
Why don't you join the journey at Synspective?
You can find open positions here