[Information]
Synspective have signed a partnership agreement with Orbital EOS, who made use of StriX SAR data for the analysis of oil spill detection off the coast of Syria in September of 2021, leading to the identification of 243.5㎢ worth of oil spill.
In October of 2021, Synspective Inc. (HQ in Japan, led by CEO Motoyuki Arai)signed a partnership agreement with Orbital EOS (HQ in Spain, led by CEO Juan Peña Ibáñez), that specializes in oil spill detection data analysis for collaboration in the Asia region. On the 9th of September 2021, Synspective captured SAR imagery data using its own satellite StirX in Stripmap mode of the entire area off the coast of Syria and the Lebanon border. The area is where a large amount of oil spill had spread across the Mediterranean Sea out of one the largest oil refinery, Baniyas, of Syria since the 23rd of August 2021,
Orbital EOS have conducted their own analysis making use of our StriX data, to assess the extent of oil spillage spread. The analysis had confirmed 243.5km2 worth of oil spill across the surrounding sea.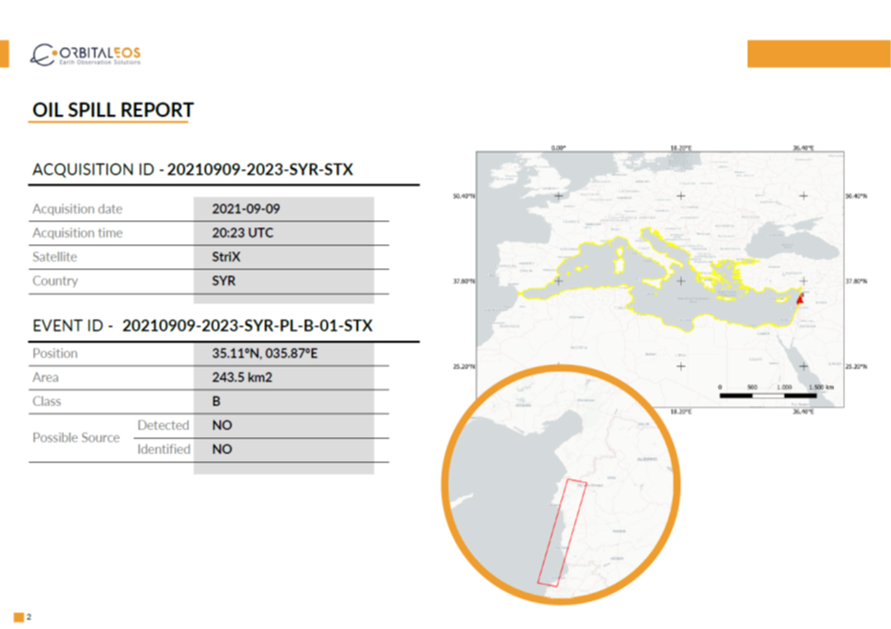 Below, black and white imagery (center) is SAR imagery data captured by StriX-α. The area colored in blue is where Orbital EOS have identified as the sea surface effected by the oil spill.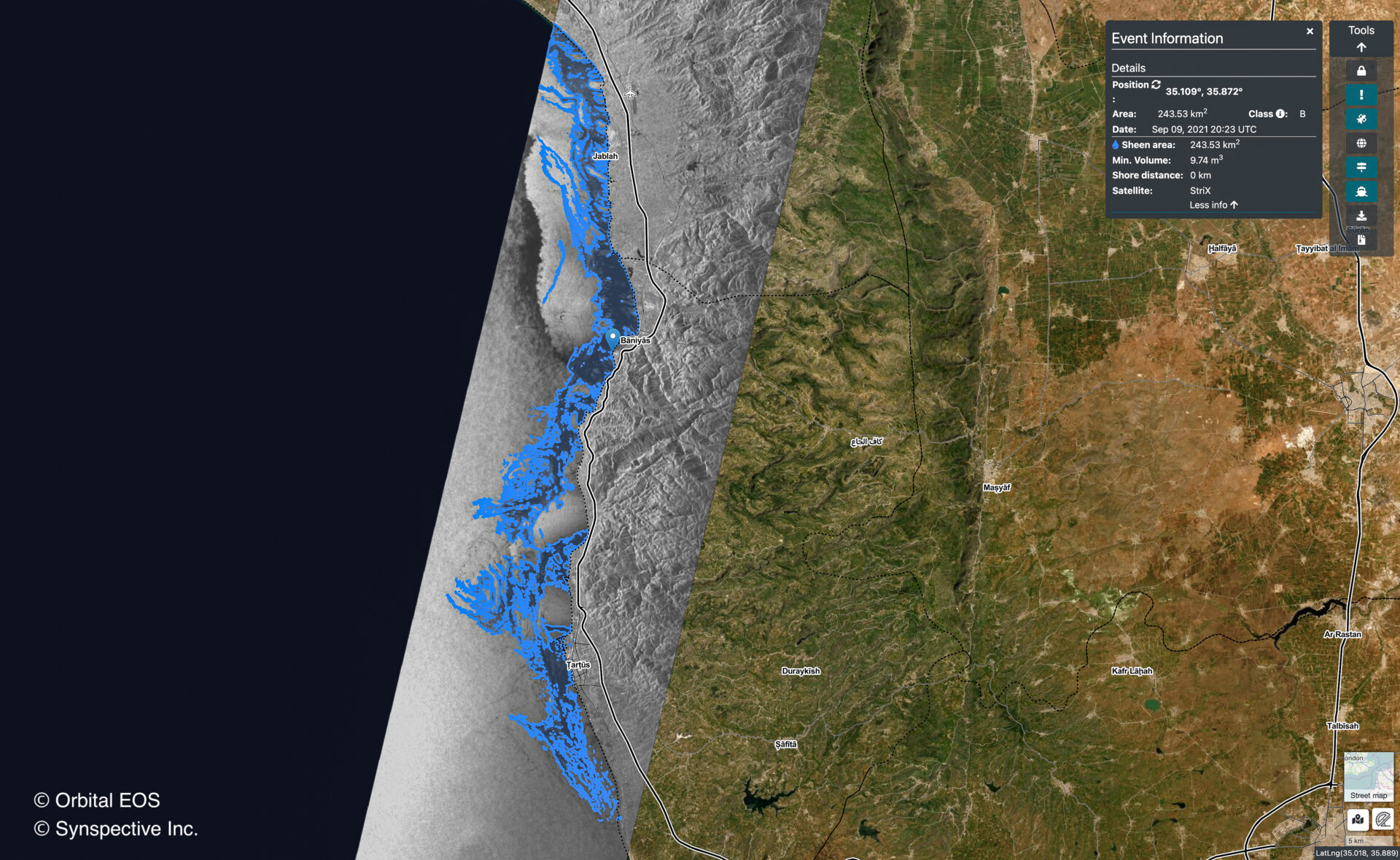 According to Juan Peña Ibáñez, the CEO of Orbital EOS, water quality along the coastal line of Syria has dramatically deteriorated as a result of the oil spill. This has impacted the local marine life, while fishing has also been banned until further notice. It is essential that such analysis is made readily available at the earliest phase of the disaster in order to minimize the damage against the local marine environment and ecosystems as well as the economy.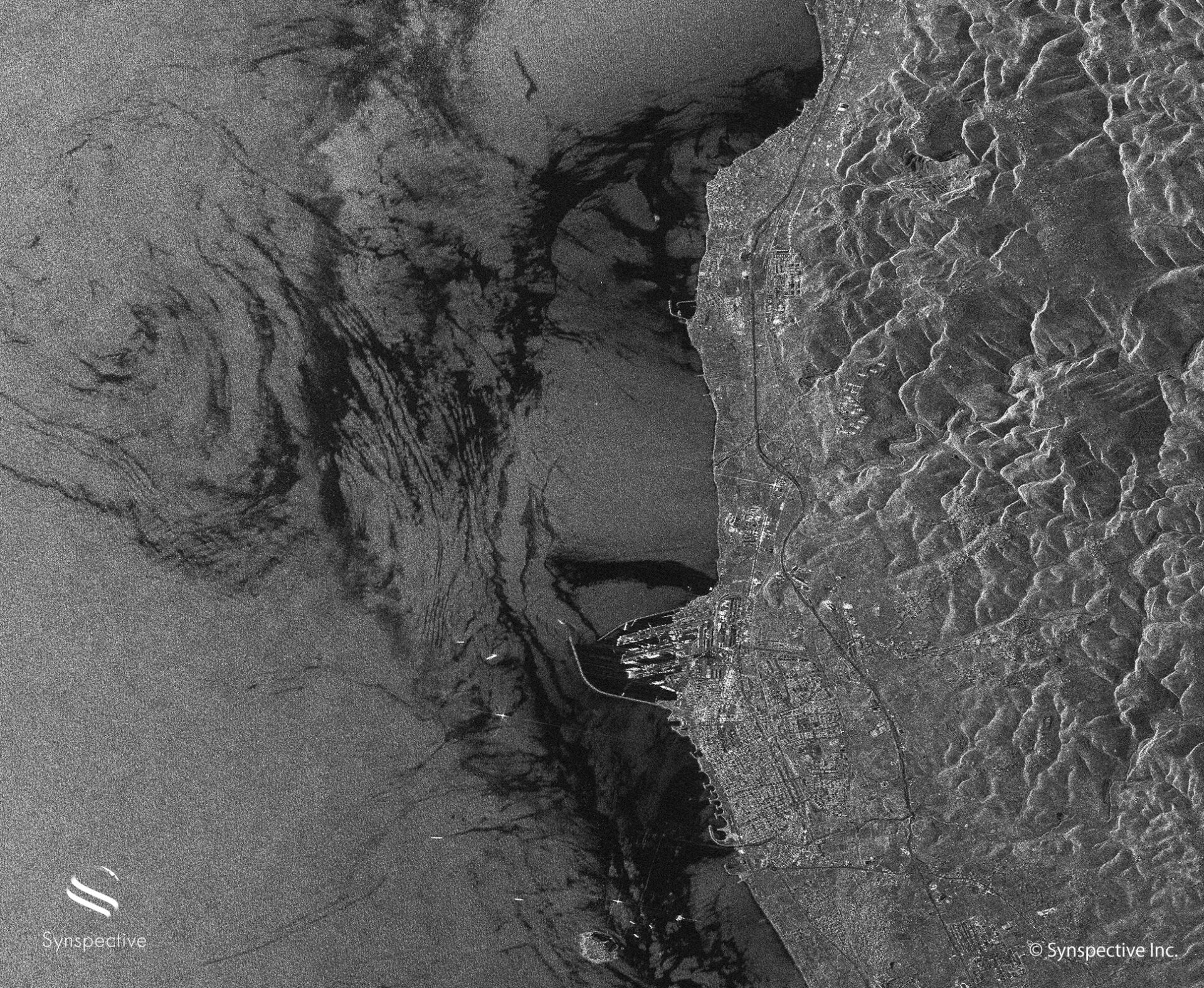 Synspective will continue to collaborate with Orbital EOS in an effort to help define the oil spillage area, its extent and the outflow prediction by providing its own SAR data imagery.