[Press release]

December 17, 2021
Macnica, Inc.
Synspective, Inc.
Macnica, Inc. (headquarters: Yokohama City, Kanagawa Prefecture, President: Kazumasa Hara), a services and solutions provider of semiconductors, network equipment, cybersecurity, and AI/IoT, and Synspective, Inc., have entered into an MOU and will collaborate on building a sustainable society using data-driven approaches.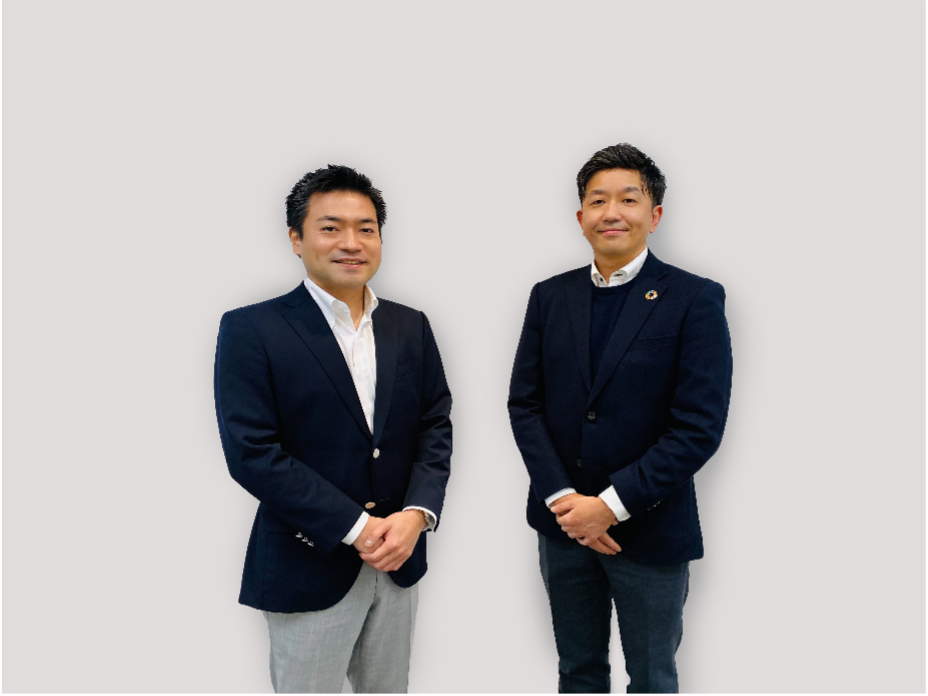 Left: Motoyuki Arai, CEO of Synspective Inc.
Right: Macnica, Inc., Innovation Strategy Headquarters, Smart Mobility Division ,
Senior Executive Manager, Takeshi Kachi
Today, data can address social infrastructure, disaster prevention measures, and have wide-ranging applications across sectors and industries. Data can be used to make predictions from analyzing changes over time, preventing natural disaster and labor risks,  to mapping information in real-time for optimal operations.  We can expect operational improvements to accelerate in areas of production and maintenance because of changes in population aging, decreasing fertility, and a slowing labor force growth. In this context,  Macnica develops and offers cutting-edge stereo cameras with high-precision and high-definition qualities that are equipped for various situations and conditions.  With 3D sensors such as LiDAR and data algorithms, they support the use of local ground data to address some of today's most pressing challenges
Synspective manufactures and operates small SAR (synthetic aperture radar) satellites and aims to build a constellation of 30 satellites by the end of this decade. We use machine learning applications to leverage SAR observational data with analytics and solutions for customers. By combining our know-how, satellite  data,  with Macnica's leading Earth data, we will be able to capture a wide range of high-accuracy, high-resolution data with rapid revisit times. We are optimistic that the possibilities of data usage and the scope of applications will increase. For example, satellite data can capture and analyze a wide area over time, narrow down areas of risk or concern, and provide highly detailed, local data points with LiDAR and other 3D sensors to maintain and manage social infrastructure more efficiently and accurately.  By combining SAR satellite data with local ground data, we can offer comprehensive data. In addition to social infrastructure, we can also address customers' needs with various use cases, from understanding work progress at construction sites to visually mapping  a damaged location during a natural disaster.
*Image of Macnica and Synspective's Collaboration
Macnica is developing business in fields such as mobility, healthcare, smart factories, and smart cities.  Combining Synspective's SAR satellite and data solutions with Macnica's products and services, which will continue to expand,  we will look to increase scope and flexibilty of our solutions and bring new value.  Additionally, we will have an exhibition booth at CES 2022, which will be held in Las Vegas from  January 5-8. Under "Accelerate your Digital Transformation by Exponential Technology", we will showcase effective solutions for DX promotion and problem solving.  The Macnica Mobility Data Platform, which draws from Synspective's data solution to collect vehicle and sensor data in real-time with AI-driven analysis, will be introduced.  Macnica will showcase "SENSPIDER", the best-in-class analog data acquisition unit, which is optimized for CBM (condition-based maintenance) and connects to various types for high-precision analog sensors. "Sense Plus", a brain-AI solution that can detect and map human emotional states from brain waves, will also be introduced to CES audiences.
■ Macnica CES 2022 Exhibit Information
Event Name: CES 2022
Date: January 5th (Wednesday) – January 8th (Saturday), 9:00 AM – 18:00 PM
*First day's session will begin from 10:00AM, Last day's session will end at 4:00PM
Venue: Las Vegas Convention Center (LVCC) North Hall # 10025
Synspective will demonstrate its data solutions which use SAR satellites and data analysis technology to detect and monitor changes to the Earth's surface. Solutions include a Flood Damage Assessment (FDA) and Land Displacement Monitoring (LDM) service. If you will be joining CES, please visit us at the Macnica booth.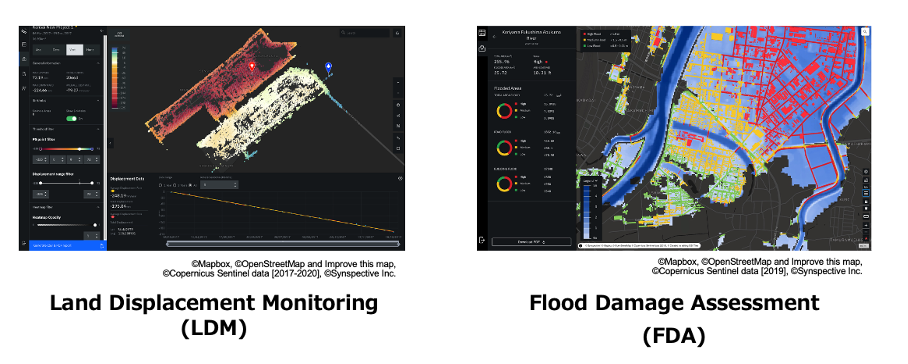 *Company and product names mentioned are trademarks or registered trademarks of Macnica, Inc. and other companies.
*The information in this news release (specifications, etc.)  reflects the most current information at time of publication. Please note that information may be subject to change without notice.
Synspective provides one-stop-solutions using satellite observation data to steadily move the world forward. Applying the results of the ImPact program (Government of Japan, Cabinet Office), Synspective is building a constellation of 30 high-frequency, high-resolution SAR satellites to provide data and solutions to governments and commercial outfits.
Established: February 22, 2018
Location: 3-10-3 Miyoshi, Koto-ku, Tokyo
Representative: Motoyuki Arai, CEO
Since it was established in 1972, Macnica has provided leading-edge semiconductors, electronic devices, networks and cyber security products with high value-added technology. Macnica has been actively developing new businesses in the fields of AI, IoT, automated driving and robotics, based on its strength in global sourcing and strategic planning for world-leading technologies. With its slogan "Co.Tomorrowing", Macnica connects leading-edge technologies with 'Macnica' intelligence to provide unique services and solutions, creating social value and contributing to the betterment of future societies. Headquartered in Yokohama, Macnica's global business spans 23 countries and 85 locations worldwide.
Established: October 30, 1972
Location: 1-6-3 Shin-Yokohama, Kohoku-ku, Yokohama
Representative: Kazumasa Hara, President and CEO
URL: https://www.macnica.co.jp/