Synspective and Topcon's regional headquarters in Asia, Topcon Positioning Asia (TPA), recently announced a partnership to deliver satellite data solution services. Synspective, a synthetic aperture radar (SAR) satellite data and solutions startup, and Topcon, a company for surveying and construction, will collaborate to yield new opportunities and innovate in the satellite data space in Japan and globally.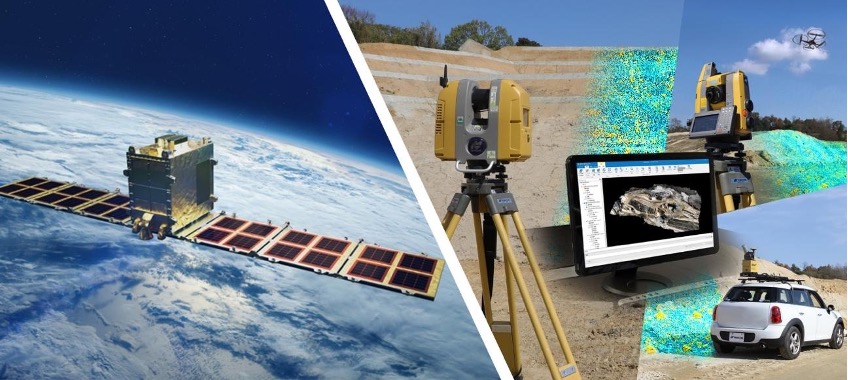 In recent years, the climate crisis has intensified natural disasters, including heavy rains and floods, as well as ground failures accompanying earthquakes such as landslides and ground subsidence. Disasters pose a major challenge that threaten people's safety all over the world. For this reason, monitoring ground deformation and predicting possible ground subsidence based on timely and accurate data are necessary solutions toward future disaster prevention.
Social infrastructure (e.g., roads, ports, airports) also calls for adaptation in a changing world. Japan is one such example of a country experiencing change; it is aging and shrinking fast. With a labor force shortage, the country must find ways to efficiently support its infrastructure.
TPA is playing a critical role in addressing societal challenges with technology.  From survey and design to inspection using various equipment (e.g., 3D surveying instruments and ICT automated systems with digital data), TPA centrally manages the entire construction process throughout Asia and the Middle East.  They are currently embarking on DX solutions, fusing leading-edge IoT and AI technologies, to realize digitization and automation of construction processes and to improve infrastructural quality and productivity.
Looking ahead, we will speed up our business with a domestic sales partnership for our Land Displacement Monitoring (LDM) service, which analyzes ground changes over a wide area with timely results. We also aim to create new synergies by leveraging our collective strengths with functional integration, development, and sales activity in Japan and overseas.
Synspective develops and operates high-frequency, high-resolution SAR satellites to provide data and solution services. We combine various data from machine learning and data science techniques to organize and extract the right information, and provide actionable insights and solutions for our customers. Synthetic aperture radar (SAR) satellites use the microwave region of the electromagnetic spectrum to beam the Earth's surface and map the reflected signal. SAR's longer wavelengths enable SAR sensor waves to penetrate clouds and collect imagery at any time of day or night.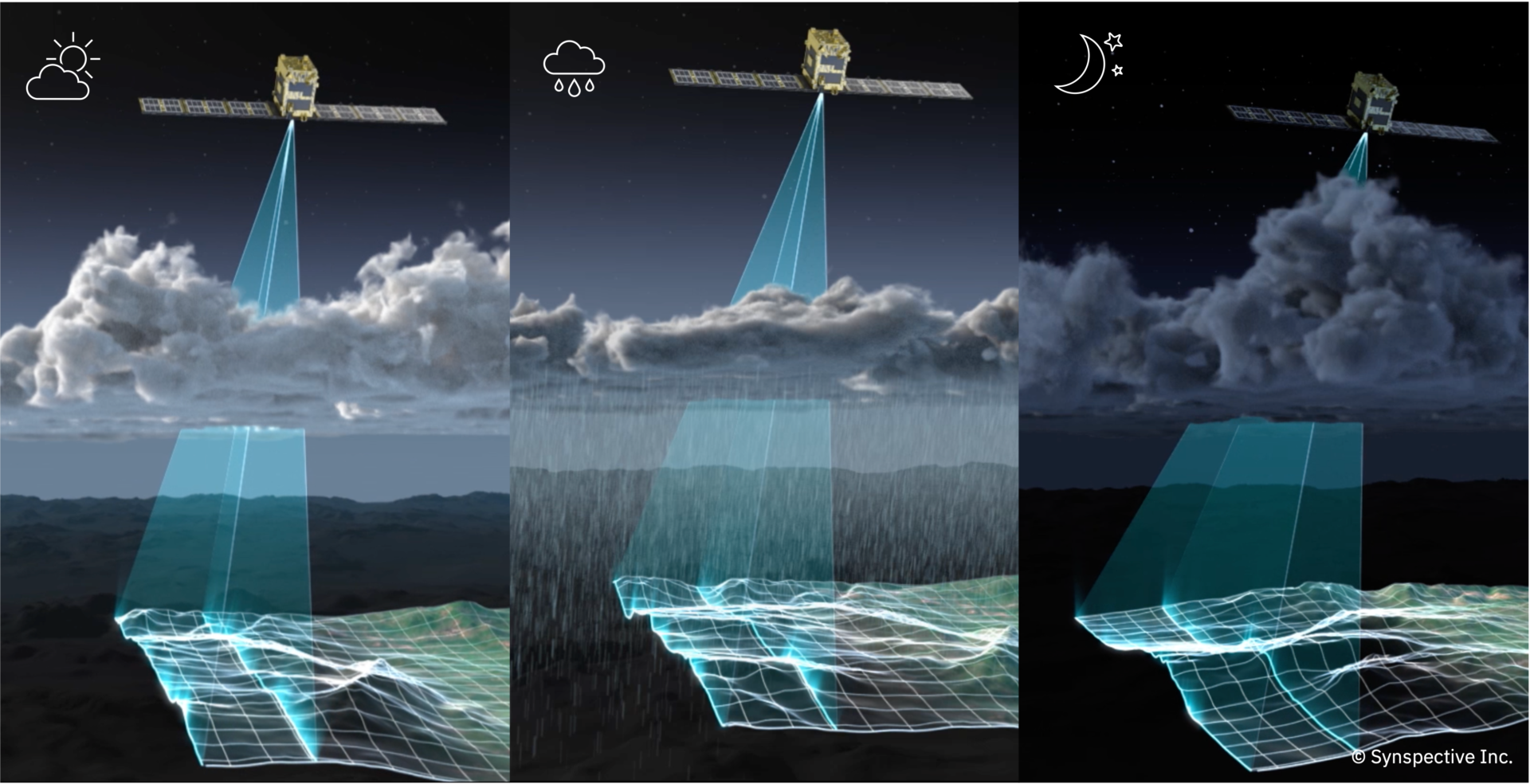 Synspective's Land Displacement Monitoring (LDM) service originates from interferometric synthetic aperture radar (InSAR)*1*2 analysis. Our proprietary technology provides wide-area change detection in millimeters and time-series analysis to monitor any location on Earth and understand ground risks. The technology can capture early signs of ground subsidence and uplift, road and rail-related landslides, and manage public and disaster prevention facilities.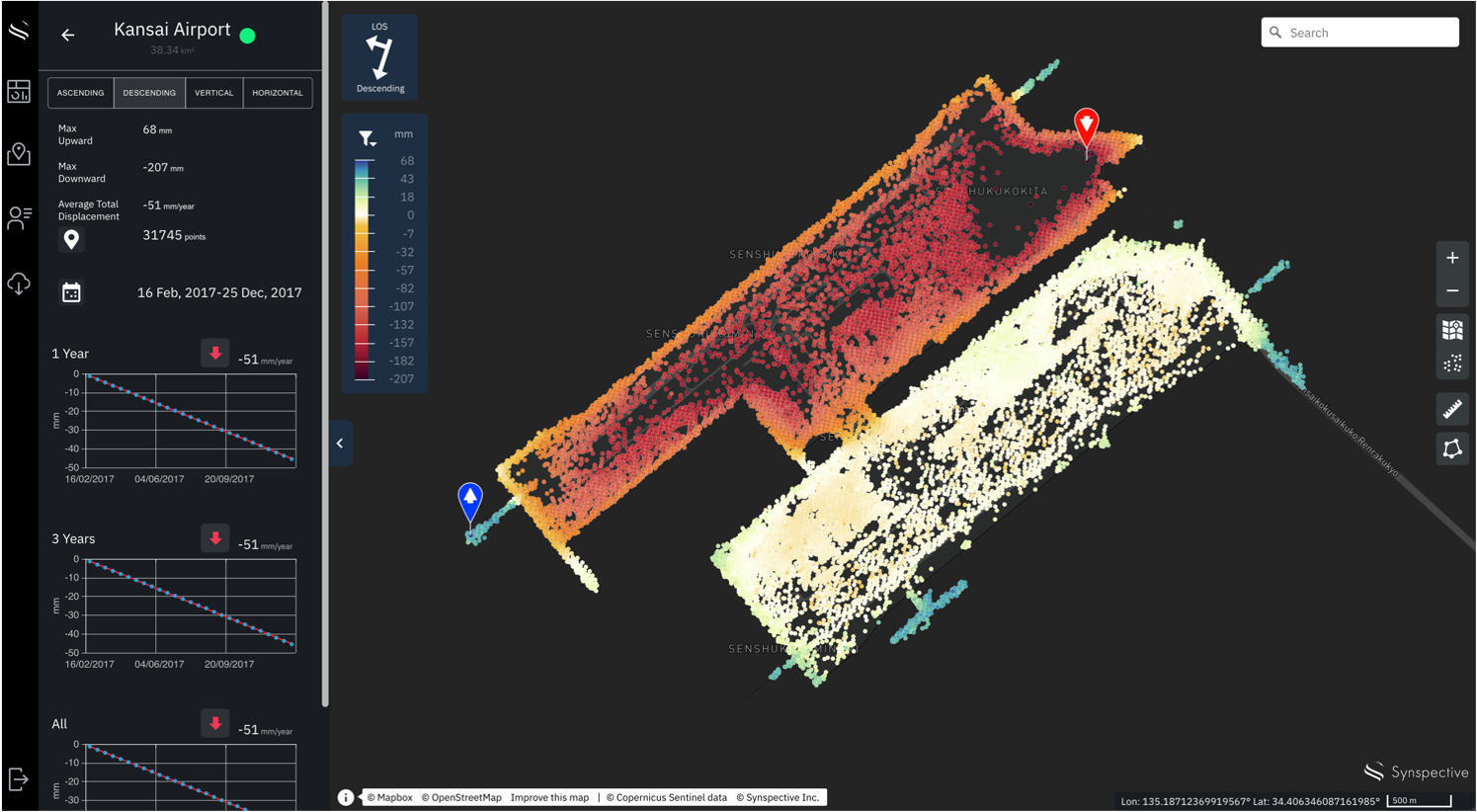 *1Sales activities in Japan will be conducted by Japan Topcon-Sokkia Positioning Co., Ltd., a subsidiary of Synspective and TPA.
*2 Interferometric SAR (InSAR) is a radar technique that detects land displacement with high accuracy.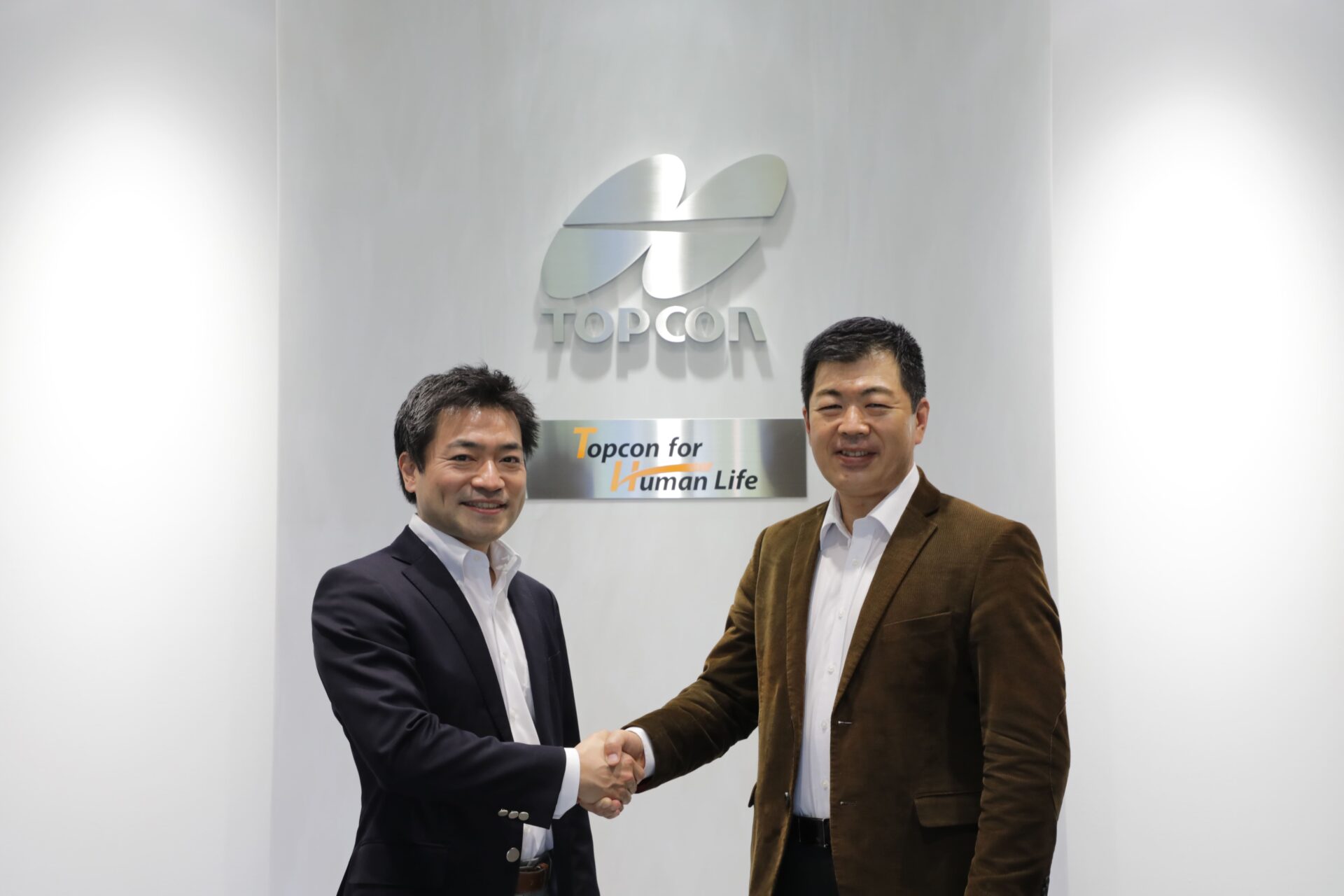 From left to right:  Motoyuki Arai, Founder and CEO of Synspective; Katsuhiro Umino, President and CEO, Topcon Positioning Asia
Katsuhiro Umino, President and CEO of Topcon Positioning Asia:
This partnership places a particular emphasis on the construction industry. TPA, with strengths in on-the-ground local sensing, and Synspective, which analyzes wide-area data from space, will advance microeconomic and macroeconomic coverage for global sensing.  I believe this partnership enables us to provide advanced services around the world.
Dr. Motoyuki Arai, Founder and CEO of Synspective:
Synspective has successfully launched three satellites and provides solutions using satellite data. To increase the value of our solutions and bridge last mile deliveries, we need to better understand the challenges our customers face. TPA has a wealth of expertise and proven experience. Partnering together, we will strengthen our solutions and provide greater value for customers.
――
Contact
Synspective PR : press@synspective.com