Press Release
2020, December 11th
Synspective Inc.
Japanese Space Industry Startup
Synspective Announces the Release of SAR-based 
Flood Damage Assessment Solution Service
~Synspective Selected as One of the Top 4 Finalists in the UR2020*-SSTL x The World Bank HADR Challenge ~
   TOKYO-2020, December 10th – Synspective Inc., a Japanese company providing satellite data and derived solutions, using small-sized SAR (Synthetic Aperture Radar) satellites, launches its SAR-based "Flood Damage Assessment Solution" service, which provides damage information when a flood occurs, using the highly reliable SAR-attributable data capabilities of all-weather, any time, high-frequency observation.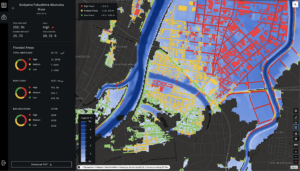 *Demo Image
■About "Flood Damage Assessment Solution" Service
The "Flood Damage Assessment Solution" is a service that evaluates inundation damage (inundation area, inundation depth, damaged roads, damaged buildings) as a measure during a disaster response. In the event of a disaster , especially when affecting large areas, early information and fast action are critical . SAR satellites are capable of all-weather, anytime, ground observation, as such, when a flood occurs it is possible to quickly grasp the gravity of the situation and evaluate the damage without delays. Furthermore, by utilizing cutting-edge AI methods, the tool can also identify the level of impact on facilities, such as roads and buildings, in a speedy manner.
In the event of a flood, insurance, financial, and government entities have a proven need to quickly assess damage based on early information. Synspective's "Flood Damage Assessment Solution" provides stable, high-frequency data from SAR satellites, using cutting-edge AI methods to provide critical information. Synspective offers this solution on a subscription basis through a SaaS (solution as a service) format. User-friendly UI/UX enables users to intuitively understand the analytical results without any prior experience of satellite data needed.
■ UR2020*-SSTL x The World Bank HADR Challenge
At the UR2020 conference on risk management, SSTL partnered with the Southeast Asia Disaster Risk Insurance Facility (SEADRIF),  supported by The World Bank, to find a solution that will help to better analyse flood spread and the resulting damage.
Teams were challenged to develop a solution that uses satellite imagery, combined with flood depth information from other existing datasets and/or real time data sources. Synspective's  "Flood Damage Assessment Solution" tool was selected as one of the four finalists.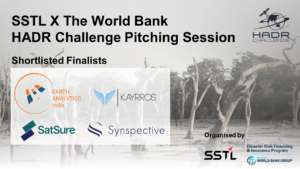 *UNDERSTANDING RISK FORUM 2020
Details:https://www.space.org.sg/events/ur2020-sstl-x-the-world-bank-hadr-challenge-pitching-session/
■ Solution services with Synspective's own SAR data 
 Synspective plans to launch its own small SAR satellite "StriX-α", in 2020.  In the near future, we can provide solutions with higher frequency and stable monitoring by use of data obtained from our own SAR satellite constellation.
■Contact 
 ■About Synspective
Synspective provides one-stop-solutions by satellite gathered geospatial data. The core technology was developed by the ImPACT program led by The Cabinet Office, Government of Japan, building small SAR satellites and constellations, allowing frequent observation of  areas of interest (AOI). Synspective uses its satellites to produce SAR data which can be provided to both government and commercial clients as-is, as well as transform that data through AI solutions to produce insights and user-friendly information across industries.