Press Release
July 27, 2021
Japan Aerospace Exploration Agency
Synspective Inc.
JAXA and Synspective Launch Demonstration of Small SAR Satellite Constellation Technology for Social Implementation of Disaster Situation Monitoring Services
Synspective Inc., (Head Office: Koto Ward, Tokyo, CEO: Dr. Motoyuki Arai)*1 and the Japan Aerospace Exploration Agency (JAXA) (Headquarters Office: Chofu City, Tokyo; President: Hiroshi Yamakawa, hereinafter referred to as "JAXA") have started co-creation activities under the "JAXA Space Innovation through Partnership and Co-creation (J-SPARC)"*2 for the "Social Implementation of Disaster Situation Monitoring Services Using a Small SAR (Synthetic Aperture Radar) Satellite Constellation." In this program, we will demonstrate the improvement of analysis accuracy by using SAR constellation to analyze Saga torrential rain as a case study, and demonstrate the improvement of SAR onboard satellite performance.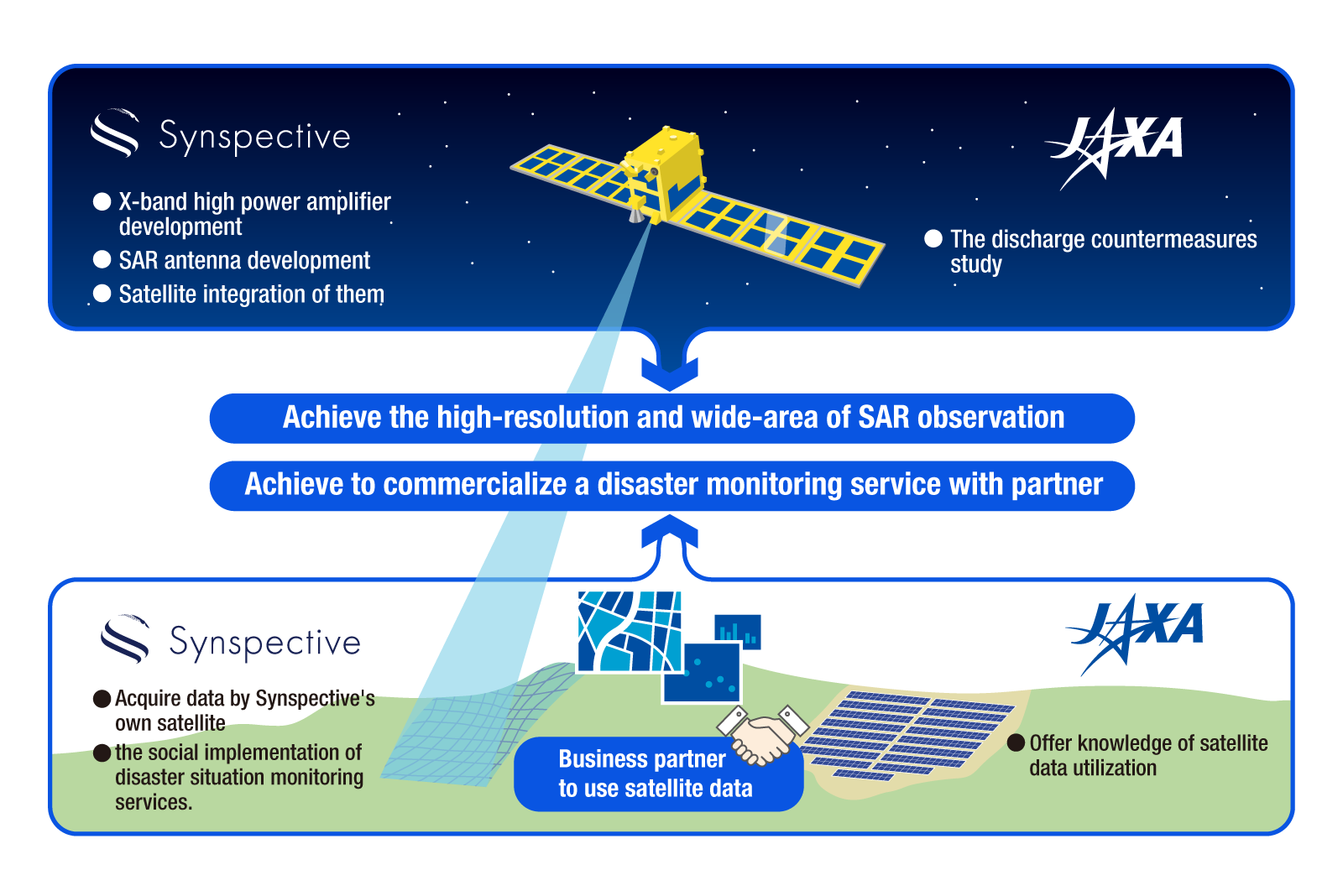 Purpose of the Project and Assignment ©JAXA・Synspective
Content of Implementation of the Co-creation Program
Social Implementation of Disaster Situation Monitoring Services Using SAR Constellation Technology
Using data acquired by Synspective's own small Sar satellite, StriX-a, StriX- β and other future satellites, as well as existing data acquired by other satellites, we will work toward the social implementation of disaster situation monitoring services.
<Example of efforts: Start demonstrating the improvement of analysis accuracy of the Saga torrential rain>
In July 2021, as the first effort aimed at social implementation, we started demonstrating the improvement of accuracy toward practical application for grasping the damage from a flood disaster. This is in cooperation with the Saga Prefectural Government Office, which has a partnership agreement with JAXA, and Shimauchi Engineer Inc., which provides drone and ground survey information for disaster information.
Last year, Synspective provided Flood Damage Assessment (Flood Damage Monitoring) services to assess flood damage (flooded area, flooded depth, damaged roads, damaged buildings) for water-related disaster responses (Figure 2). In the event of a water-related disaster, this service is expected to contribute to quick decision-making by providing first-hand information on the damage in a wide area.
This time, Synspective, Saga Prefectural Government Office, Shimauchi Engineer Co., Ltd. and JAXA will collaborate by using a small SAR satellite constellation to demonstrate the improvement of analysis accuracy of flood damage caused by torrential rains.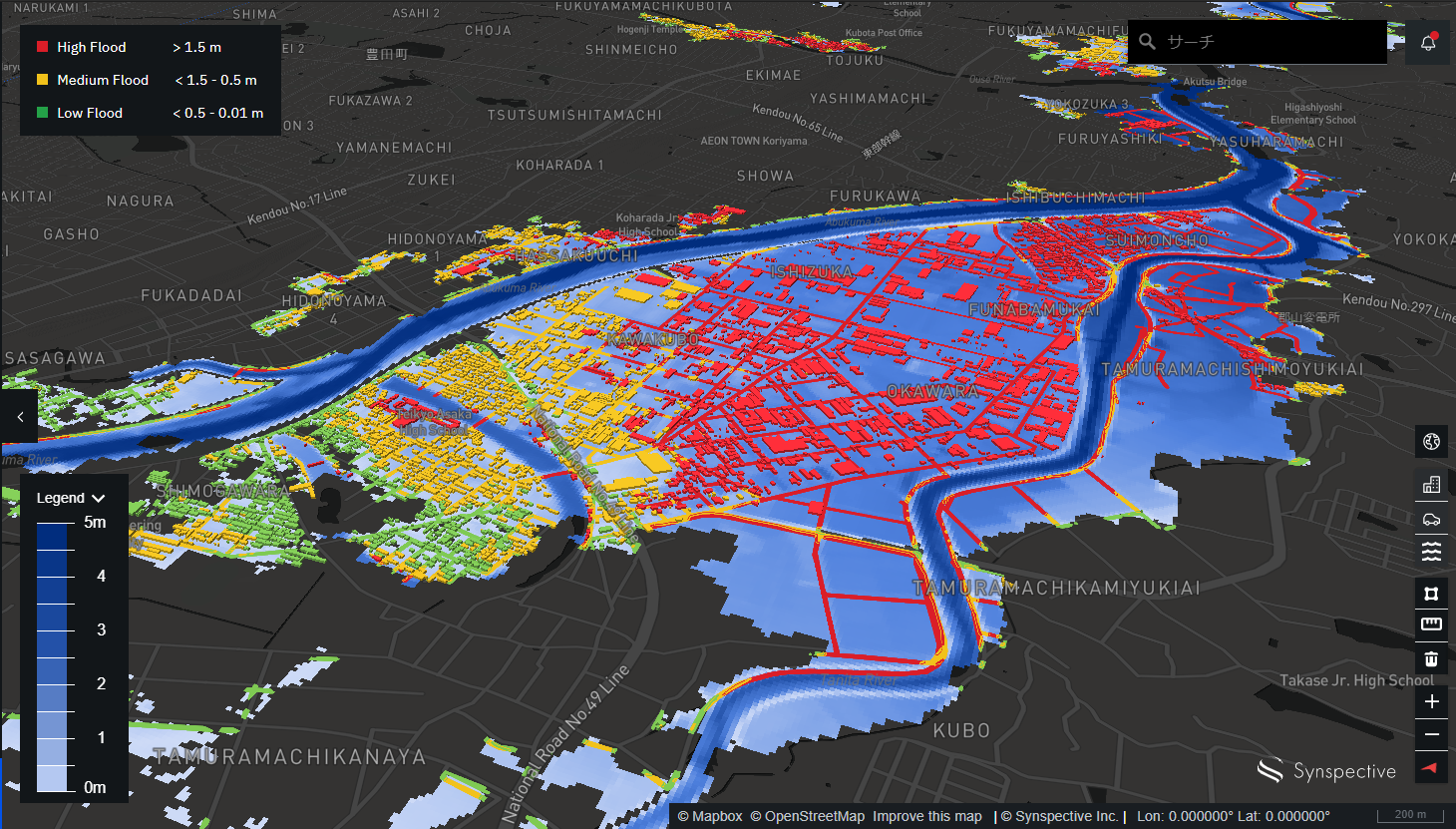 Flood Damage Assessment Image©︎Synspective Inc.
(https://synspective.com/jp/solutions/flood-damage/)
Verification of Technology to Achieve Higher Resolution and Wider Area of SAR Observation
Synspective and JAXA will conduct joint research to improve the performance of the SAR sensor by utilizing JAXA's knowledge on miniaturization of the SAR sensor, which is the result of research and development under the Impulsing Paradigm Change through Disruptive Technologies Program (ImPACT), led by the Cabinet Office. Specifically, JAXA will study the discharge countermeasures for a high-power radar required for the high-resolution and wide-area of SAR observation that Synspective aims to achieve. They will also conduct a technical demonstration in space using Synspective's StriX-β and future satellites under development.
Synspective aims to commercialize a disaster monitoring service using the small SAR satellite constellation technology by combining JAXA's knowledge of satellite data utilization and satellite technology, as well as to achieve social implementation of services that can contribute to decision making by local governments, etc.
――――――――――――――――――――――――――――――――――――――――
■*1 Synspective Inc.
Synspective is a company that provides a one-stop solution business by utilizing satellite observation data, aiming to realize a world of steady progress based on data. The company builds a satellite constellation with its own small SAR satellites that will enable high-frequency observations based on the application of the results of the Cabinet Office's "ImPACT" program. The company sells the data obtained from these satellites and provides solutions for governments and companies using such data.
■*2 JAXA Space Innovation through Partnership and Co-creation (J-SPARC)
J-SPARC is a program to create new businesses by starting a dialogue between JAXA and private companies that aim for space business, obtaining commitments from both parties for commercialization, and jointly studying business concepts and fostering exit-oriented technological development and demonstration. JAXA has been implementing this program since May 2018 and is now supporting more than 30 projects under the program. Business concept co-creation involves activities such as market research and business concept study, while business joint demonstration involves activities such as joint feasibility study before commercialization and joint technology development and demonstration.
URL: http://aerospacebiz.jaxa.jp/solution/j-sparc/
<For inquiries>
Synspective Inc.  Synspective PR
National Research and Development Agency Japan Aerospace Exploration Agency
Public Affairs Department +81 50-3362-4374