Road map
Synspective aims to build the Learning World ecosystem with our analytics platform and SAR data provided near real-time to understand changes and disaster damage anywhere in the world.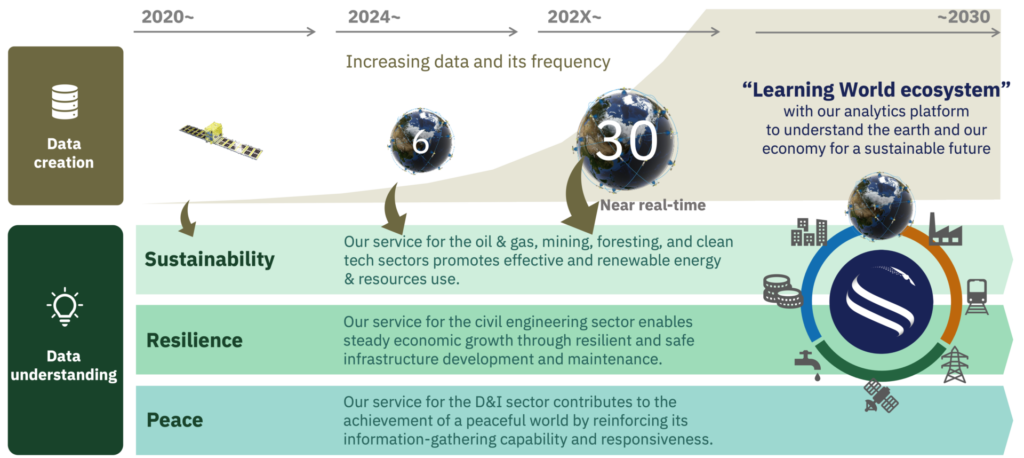 The 3 keywords : frequency, freshness, and high resolution.
Synspective's goal is to not only develop satellites but also build an ecosystem of agencies and partners that all collaborate to discover new ways to use satellite data to transform the way we see the world and solve its many challenges.
From suppliers that provide us with inter-satellite networks to those that offer ground-based systems for satellite operations and data processing, all of us work together to achieve the three keywords that are essential features of our satellites: frequency, freshness, and high resolution.
Building a Constellation
Synspective aims to build a 30-satellite constellation by the late 2020s. We will achieve this by leveraging our small SAR satellite design, which has a simple configuration while still maintaining performance levels that are equal to those of larger conventional SAR satellites. This allows us to manufacture our satellites and build our constellation with greater speed.
Though the SAR antenna is 5 meters long, it can be folded and stored in the small satellite configuration. The electronics within the small body of the satellite consist of an amp, control electronics, and waveguides. The high power necessary for SAR operation is generated by the solar cells that are located on the backside of the antenna.
Synspective has also developed functions specialized for SAR such as a high-power control unit and agile attitude maneuvers. We plan to further build up the capabilities of our satellites by enhancing precise orbit control methods for the use of Interferometric SAR (InSAR) analysis and installing on-board deep learning technology.
Technologies for the future
Together with our partners, Synspective has developed and continues to strengthen the network, data processing, and autonomous control for our satellites, as well as ground systems and factories. We are continually researching and developing necessary technologies in this field and implementing them to each generation of our satellites.
The technologies that are currently being developed includes a new SAR system, high-efficiency amps, upgraded SAR electronics, a light-weight and modifiable antenna, an inter-satellite communication network, on-board data processing, agile tasking, on-board planning, fault detection using telemetry and test data, quick fault recovery, factory digitization, and knowledge modeling (model-based systems engineering).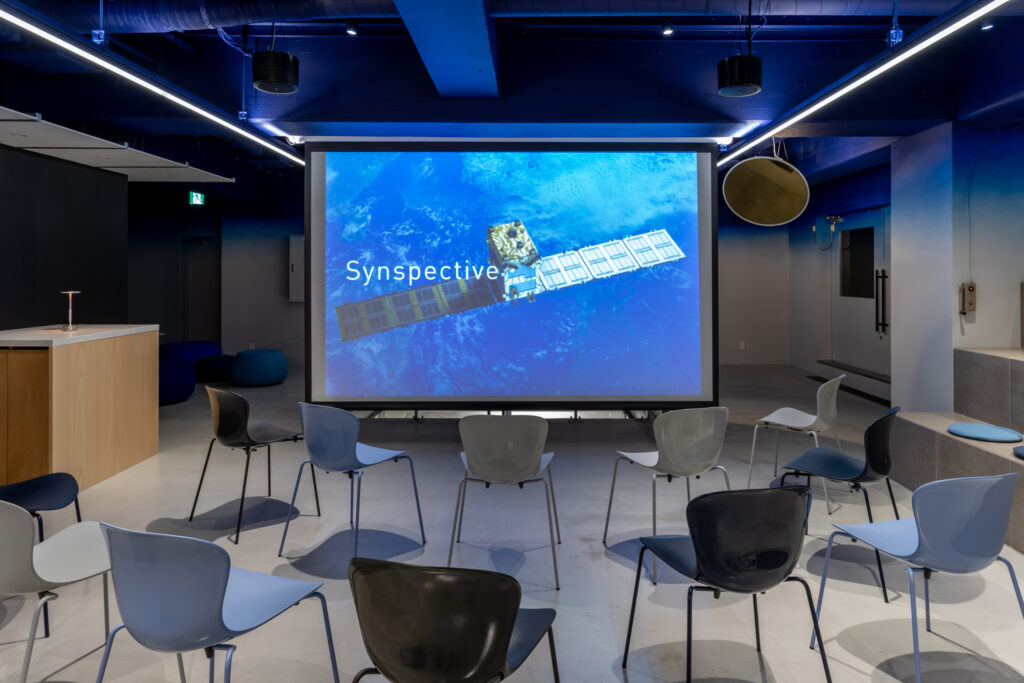 A Message from the Satellite System Development Department
Synspective is eager to work with individuals and organizations that share our enthusiasm for our products, value our expertise, and agree with our vision to establish a SAR satellite ecosystem.
With a strong commitment to agile development and the support of partner companies, government agencies, and universities, we are able to understand and meet our customers' needs.
In order to realize a high level of quality in our products and services, Synspective needs passionate individuals from a wide range of backgrounds and expertise including SAR, ground/satellite network, data processing, systems engineering, edge computing, quality control/assurance, factory management, and project management.
Please contact us if you are interested in joining our team or if you are a supplier interested in forging new partnerships.