Synspective's StriX-β conducted daily SAR Stripmap observations of Pasir Panjang terminal in South Singapore.
The COVID-19 outbreak has lengthened ship delivery times since 2020, pushing up freight costs, while the Russia-Ukraine conflict and lockdowns in Shanghai have added to supply chain disruptions this year. However, the port of Singapore, the world's busiest transshipment hub, was unfazed by these disruptions and continued operations 24/7.

The outbreak of Covid-19 has caused supply chain disruptions and port congestion affecting ships globally. The world's shipping times and costs have therefore significantly increased. Furthermore, the Russia-Ukraine conflict, as well as the strict lockdowns in Shanghai, China have resulted in a major supply chain disruption.  Singapore's port has a world renowned reputation enabling logistics firms to catch up with timelines due to its efficiency of cargo handling, and connectivity with the world.

Synspective's StriX constellation can help manage ports and vessels more efficiently and on a larger scale, contributing to countering these disruptions, by introducing its daily observation orbits.

Value of SAR constellations for one-day return orbits
Synspective can offer High Temporal Resolution, meaning we can deliver images with high geolocation accuracy on a daily basis on selected locations. By the end of 2023, our constellation will consist of 6 StriX Satellites, enabling us to cover major Asian cities on a daily basis.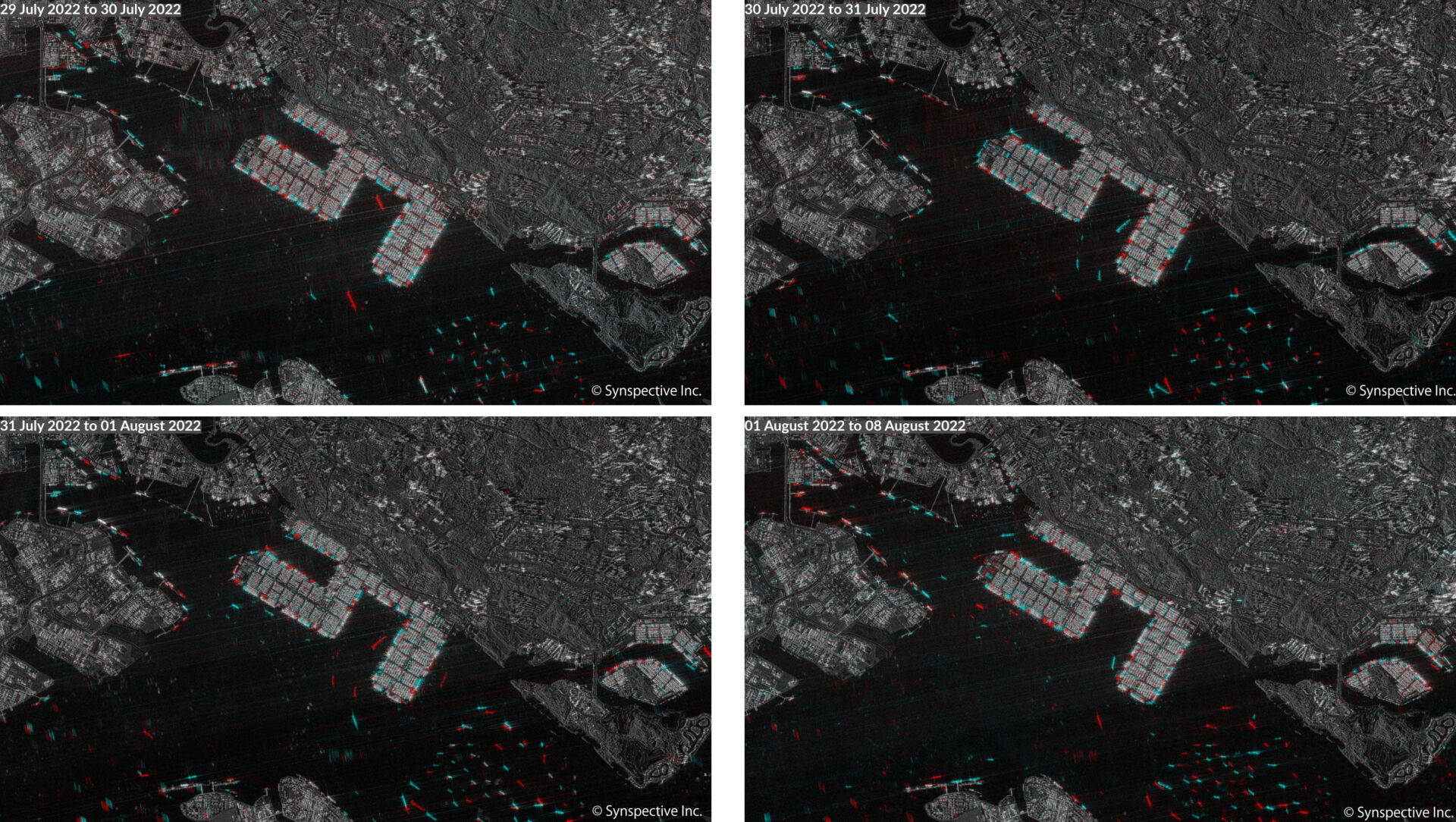 What changes can we observe
Stripmap mode can detect objects and vessels, meaning that the difference can be shown over multiple observations. In the image above and below, the red parts mean that objects/vessels have disappeared compared to the previous observation.
The blue parts mean that there are newly added objects/vessels in the image. This means that our SAR satellite data can detect occupation rates at AOI's.
These activities will be useful in understanding the economic activity of trade at the AOI.

What we can offer moving forward
Synspective is ready to provide new datasets allowing daily observations.

These Data sets bring new opportunities and open up business possibilities.

There will be more revisits and coverage coming in 2023 and beyond